Mobile Trailer
Our Mobile Coffee/Beverage Trailer "Beans"
We have a full-service coffee/beverage trailer offering a variety of drink options, Hot Coffee/Espresso/Cold Brew being our specialties, as we roast our own beans. In addition, we craft Hot, Cold, and Blended options (Ice Teas, Lemonades, Italian Sodas, Frozen Hot Chocolate to name a few) so everyone who visits our trailer can find something they like, even if it's not coffee.
We can do food as well! We have partnered with several local businesses to be able to provide pastries, food, and sweet treats with our beverages in one convenient package for you.
Interested in booking our trailer for your next event? Get in touch, we would love to discuss!! Email us at: info@ShortDsBeans.com
Hot Drinks
Our Hot-D's include: Coffee, Lattes, Hot Chocolate, Chai, Herbal Teas, Apple Cider, and our Specialty Infusion.
Cold Drinks
Our Cold-D's include: Cold Brew, Iced Lattes, Lemonade, Chai, Ice Tea/ Sweet Tea, Italian Soda (with or without Cream), and Bottled Water.
Mixed Drinks
Our 50-Fift-D's are half tea and half lemonade (our version of an Arnold Palmer).
Options include Passion Tea and Black Tea mixed with Lemonade. Chai Tea mixed with cream.
Blended Drinks
Our Blend-D's are a refreshing beverage blended with ice and your choice of options.
Varieties include: Frozen Hot Chocolates, Vanilla Sweet Cream Brew, Frozen Lemonade (with or without flavors), Frozen Chai, and Cold Brew Blended options.
Food Options
Partnering with local bakeries we can provide anything from Cinnamon Rolls, Muffins, Scones, and more in the mornings. To Cupcakes, Brownies, Whoopie Pies, and more in the evenings.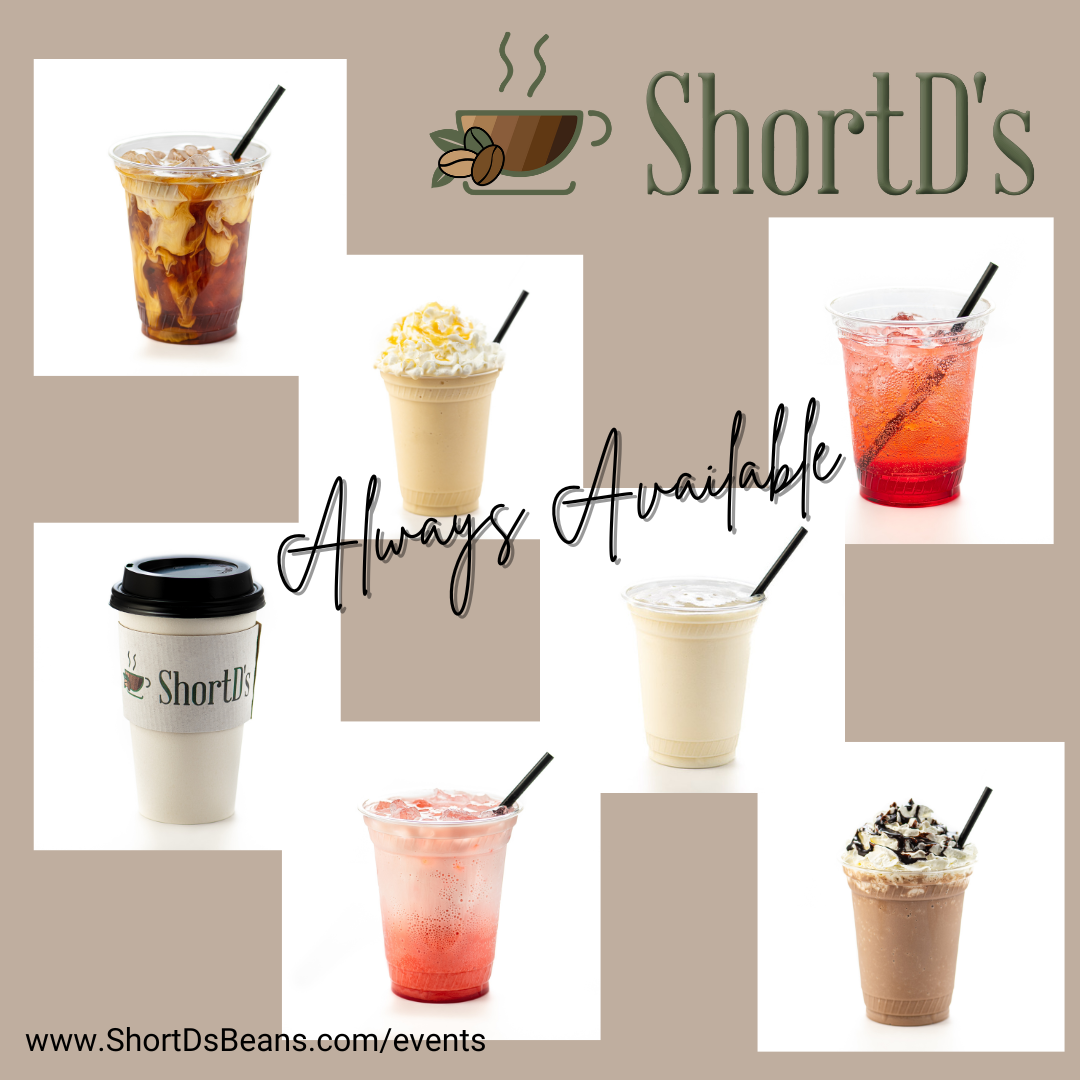 Available
Season flavors rotate throughout the year, including Pumpkin Spice, Blue Raspberry, Green Apple, Maple, Peppermint, Brown Sugar & Apple, and more.